Live in love, as
Christ 

loved us and gave himself up for us,
a fragrant offering and sacrifice to

God

.
Walk with us on your journey of Faith.
We offer many opportunities for you to explore your faith surrounded by a community of people on the same journey as you. We hope that you will join us to see all of the exciting things that are happening!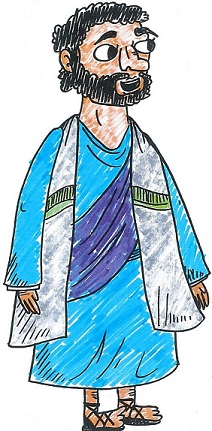 Stay Connected this summer with Flat Jesus!
We are taking Jesus with us everywhere we go this summer – and yes, by "we" , we mean "You"! Get ready for the kickoff of Flat Jesus and his summer adventures at our May 19th Breakfast and Butterflies event! This will be a fun and unique way to stay connected with God and one another on our summer travels!
Click here to learn more!
Vacation Bible School preparations are underway and we need YOU!
We need YOU to join our Crew! Our VBS team is hard at work getting things ready for this summer's Vacation Bible School! We already have over 200 kids registered for this fun week. We are looking for volunteers in many areas, but especially for Morning Elementary Crew Leaders. No prep work required. You do not have to have a child in VBS to volunteer. We have a nursery available for volunteers if your kids are too young to attend. Sign up now! 
What is a Crew Leader?
You'll be the guide of your small VBS family for the week! You are responsible for moving your crew through the various stations each day. Your crew will travel with three or four other crews. No prep work required!
Supplies needed!
Can't make it to volunteer?  Don't worry, you can still help out! Sign-up now to donate supplies that are needed to make VBS a success!
Thank you so much for your support throughout the years. We couldn't do it without you!
Join us in Giving Back!
2nd Annual Fedor Family Giving Back Blood Drive
Wednesday, June 26 from 9:00 am – 1:00 pm & 5:00 – 8:00 pm
New this year! Food Trucks will be on-site serving lunch and dinner!
We have all heard donating blood saves lives, but did you ever think you would count on donated blood to save your life? The life of your spouse? In September of 2018, the gift of donated blood saved the Fedor family from losing Serena after the birth of their son, Luke. During three weeks in the ICU, Serena received over 200 blood products that would have come from the donations of at least 50 different donors. The Fedor family's story of love, faith and hope is sewn together by the gift of donated blood. Please join us for a blood drive so we can save the lives of more moms, dads, sisters and brothers in our community.
All Donors will receive 1 FREE ticket voucher to any Harrisburg Senators regular season home game and a Dairy Queen certificate for a Large Blizzard (Fairview Commons, New Cumberland location only). A form of ID is REQUIRED to Donate. For more information call 1-800-771-0059 or visit 717giveblood.org.
NEW THIS YEAR – FOOD TRUCKS! Stop by the Blood Drive and enjoy lunch or dinner from one of our participating Food Trucks! Williams French Fries will be serving lunch from 10:00 am – 1:00 pm and The Kickin' Chicken Bus will be serving dinner from 5:00 pm – 6:30 pm. Cash or Credit is accepted! Bring your friends, family, and co-workers!
Help us take VBS to Guatemala
Trinity has been invited by Tree4Hope to bring our awesome Vacation Bible School program to Guatemala and we need your help! Click here to learn more about this trip and how you can join the home team! You have the option of making a monetary donation when you register for Trinity's VBS!
Did you know?
• It is extremely expensive and very difficult to ship donations or supplies from the US directly to Guatemala. The best way to transport medicines, blankets, clothing, school supplies, etc is in checked baggage carried by volunteers. We have been asked to transport many items in addition to our VBS supplies. It will cost the Trinity Team approximately $1000 in baggage fees to transport 1400 pounds of supplies and donated goods to Guatemala! Your monetary donations will help defray these costs.
•  Tree4Hope is running a matching gift campaign to finish building Hope Academy now through the end of July. All donations up to $75,000 will be matched by an anonymous donor! Now is a great time to give! Donations can be made directly to Tree4Hope or through Trinity. Just make sue to designate your gift for Tree4Hope.
• You can make a difference in the life of an individual child by becoming a sponsor. The cost to sponsor nutrition, therapy, music lessons and more for a child at the Childrens' Homes we will be visiting is just $216 per year ($18 per month). If you act now, we will be able to transport a GIFT from you to your sponsored child when we go to the Home this summer! More Details and sign up HERE.
•  You can also choose to sponsor the education of one of the girls at the new Hope Academy for $100 per month. Learn more HERE.
NEXT PHASE for young adults
June 27 at 7:00 pm
Ever Grain Brewing Company
Are you in your 20s and 30s? Come on out to our NEXT PHASE session to find your people, grow in your lives/careers, and build community. It's Thursday, June 27, at 7 pm, at Ever Grain Brewing Co., 4444 Carlisle Pike, Camp Hill.
GROW Series
June 19, July 24, August 14; 7:00 pm
Learn and grow in this casual, outdoor setting at Pastor and Linda Horner's home, rain or shine. All are welcome. Bring your own lawn chair if you can.
June 19 Grow Where You Were Planted (Pastor Brock)
July 24 Grow Where You Are (Pastor Frey)
August 14 Grow Where God is Leading You (Pastor Horner)
Starting Point
June 2 through July 21st
New to faith? Curious about God? Coming back to church after some time away? Come and have conversations, explore faith, and be a part of a community!
Everything has a starting point—life, relationships, education, career. But sometimes we forget that faith has a starting point as well. By the time we're adults, most of us have made up our minds about faith. But the faith we form or inherit when we're young doesn't always stand up to the pressures of life.
What if it were possible to explore faith freely and ask the questions we all have. What if it were possible to wipe the slate clean and work together to find a new starting point for faith?
STARTING POINT is an 8-week small group where you can discuss the questions or concerns you have about faith. Join us any Sunday. Class will be held in the Library from 9:45 – 10:45 am.
TLC Book Review Club
3rd Sunday of the Month
Join the TLC Book Review Club on the third Sunday of every month during the Faith Connections Hour (9:45 – 10:45 am.) All are welcome! Questions or book recommendations? Contact Sue Kerr at kerrent1@hotmail.com.
Here is the book selection for June.
June's selection is The Rent Collector by Camron Wright
Survival for Ki Lim and Sang Ly is a daily battle at Stung Meanchey, the largest municipal waste dump in all of Cambodia. They make their living scavenging recyclables from the trash. Life would be hard enough without the worry for their chronically ill child, Nisay, and the added expense of medicines that are not working. Just when things seem worst, Sang Ly learns a secret about the bad-tempered rent collector who comes demanding money–a secret that sets in motion a tide that will change the life of everyone it sweeps past.
The Rent Collector is a story of hope, of one woman's journey to save her son and another woman's chance at redemption.
Travel to Germany
Fall of 2020
Hosted by Pastor Jack Horner
Travel to Germany in the fall of 2020 as you follow the footsteps of Martin Luther for 11 days. View the brochure or pick up a copy in the Gathering Space.  This trip features the Passion Play of Oberammergau. Co-hosting is Pastor Horner's re-found friend, Pastor Kurt Hutchens (Lead Pastor of Shalom Lutheran Church, Pinckney, MI), whom Pastor Horner spoke about in his sermon of February 24. Check out their story in the sermon, "God Made Known in Forgiveness."