Live in love, as
Christ 

loved us and gave himself up for us,
a fragrant offering and sacrifice to

God

.
Walk with us on your journey of Faith.
We offer many opportunities for you to explore your faith surrounded by a community of people on the same journey as you. We hope that you will join us to see all of the exciting things that are happening!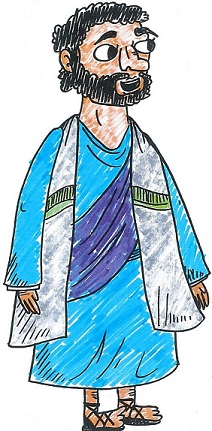 Flat Jesus Celebration
Sunday, August 25
9:45 – 10:45 am in the Library
See the many adventures that Flat Jesus had with your fellow Trinity Members this summer.  Prizes will be awarded for farthest trip, funniest photos, and most places visited.  All are welcome to join us for the fun!
TLC Book Review Club
3rd Sunday of the Month
Join the TLC Book Review Club on the third Sunday of every month during the Faith Connections Hour (9:45 – 10:45 am.) All are welcome! Questions or book recommendations? Contact Sue Kerr at kerrent1@hotmail.com.
Here is the book selection for August.
August's selection is Educated: A Memoir by Tara Westover
Raised in a survivalist family with a religious fanatic father, Westover tells of her quest for knowledge and how it transformed her. She was 17 when she first set foot in a classroom, and she went on to earn her PhD. The book was selected by The New York Times Book Review as one of the 10 best books of 2018.
Travel to Germany
Fall of 2020
Hosted by Pastor Jack Horner
Travel to Germany in the fall of 2020 as you follow the footsteps of Martin Luther for 11 days. View the brochure or pick up a copy in the Gathering Space.  This trip features the Passion Play of Oberammergau. Co-hosting is Pastor Horner's re-found friend, Pastor Kurt Hutchens (Lead Pastor of Shalom Lutheran Church, Pinckney, MI), whom Pastor Horner spoke about in his sermon of February 24. Check out their story in the sermon, "God Made Known in Forgiveness."