Whoever welcomes one such
child

in my name 

welcomes me

.
At Trinity we welcome all Children and Families!
We offer many fun programs specially focused on Children and Families.  We hope that you will join us to see all of the exciting things that are happening!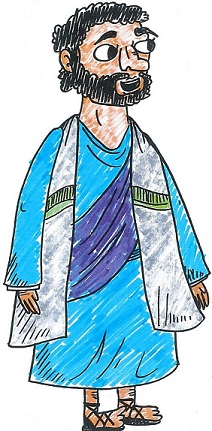 Stay Connected this summer with Flat Jesus!
We are taking Jesus with us everywhere we go this summer – and yes, by "we" , we mean "You"! Get ready for the kickoff of Flat Jesus and his summer adventures at our May 19th Breakfast and Butterflies event! This will be a fun and unique way to stay connected with God and one another on our summer travels!
Click here to learn more!
Help us take VBS to Guatemala
Trinity has been invited by Tree4Hope to bring our awesome Vacation Bible School program to Guatemala and we need your help! Click here to learn more about this trip and how you can join the home team! You have the option of making a monetary donation when you register for Trinity's VBS!
Did you know?
• It is extremely expensive and very difficult to ship donations or supplies from the US directly to Guatemala. The best way to transport medicines, blankets, clothing, school supplies, etc is in checked baggage carried by volunteers. We have been asked to transport many items in addition to our VBS supplies. It will cost the Trinity Team approximately $1000 in baggage fees to transport 1400 pounds of supplies and donated goods to Guatemala! Your monetary donations will help defray these costs.
•  Tree4Hope is running a matching gift campaign to finish building Hope Academy now through the end of July. All donations up to $75,000 will be matched by an anonymous donor! Now is a great time to give! Donations can be made directly to Tree4Hope or through Trinity. Just make sue to designate your gift for Tree4Hope.
• You can make a difference in the life of an individual child by becoming a sponsor. The cost to sponsor nutrition, therapy, music lessons and more for a child at the Childrens' Homes we will be visiting is just $216 per year ($18 per month). If you act now, we will be able to transport a GIFT from you to your sponsored child when we go to the Home this summer! More Details and sign up HERE.
•  You can also choose to sponsor the education of one of the girls at the new Hope Academy for $100 per month. Learn more HERE.
Trinity Kids Love Camp!
Each summer many of our Trinity children and youth attend day camp, week long camps, and family camp at both Camp Nawakwa and Camp Kirchenwald. Visit their website at lutherancamping.org to learn about all of the programs available this summer. Scholarships are available to all Trinity Members.  
Faith Connect Kids! 
Our classes are on Summer break, but we are looking forward to a fun fall! Check back late Summer for registration!
Parenting with you – each step of the way! 
You're not in this alone! Being a parent can be exciting, joyful, frustrating, and downright complicated. Trinity wants you to know we're with you each step of the way. You're doing good work! Visit our Parents page for more articles and helpful links.
Listen-Better Parents
One of our NEW Faith Connection classes for adults! Stop by anytime to share, discuss, laugh and learn. Sundays at 9:45 am in Room 234. Limited copies of book available at Trinity or you may purchase the book here.
DivorceCare
Wednesdays at 6:30 pm
March 13 – June 12

Most people say that separation and divorce are the most painful and stressful experiences they've ever faced. It's a confusing time when you feel isolated and have lots of questions about issues you've never faced before. DivorceCare groups meet weekly to help you face these challenges and move toward rebuilding your life. Facilitated by Barbara Caboot 
Raising a Kind Person
Being kind and raising kind people is actually a really good goal to have as a parent, because kind people have better relationships, and they ultimately live a healthier, happier, more successful life. (Read More)
Fortnite: I'll Pass On the V-Bucks
The Saga
If you have any contact with a kid over age 8, I'm sure you have heard of Fortnite. If not, simply say that word around a kid and you will get a reaction. Especially boys. It is the latest and greatest in the App Store, Xbox, Switch, gaming craze. How do I know this? Well, I live with two boys and we have had our own personal Fortnite adventure over the past several months. (Read more)
Balancing Fun and Order
If there's one thing I can't deny about my four-year-old Dylan, it's that she likes to have fun. But, not your typical day to day type fun folks. She's the kid that asks what we're doing and where we're going every five minutes just to make sure that every nanosecond of the day, fun is present. Despite the fact that she has more toys than furniture in her room, going home is still absolutely dreadful in her little four-year-old mind. Because, well, it's just not fun enough. (Read More)